Differences View
Last update: February 2017
RC-WinTrans' Differences view displays the differences between two and/or two translations in the following instances:
1.

Uniform Translation Error (Check Results View)

Differing translations found by the uniform translation check are displayed in the Differences view when you click on an error listed in the Check Results view.

 

2.

Different Translation Found in Dictionary (Dictionary Found Results List)

The differences between the active translation unit ( and target texts) and a listed in the Dictionary Results list can also be displayed in the Differences view.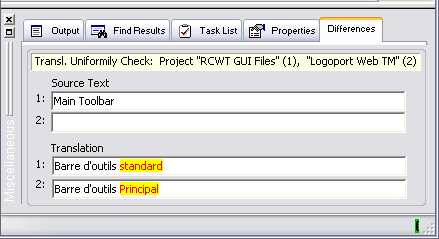 Figure: The Differences view showing the differences between two French translations for the English "Main Toolbar."
Like most of the views in RC-WinTrans, the size and orientation of the Differences view can be adjusted to user preferences.  Right-click on the view's title bar to call up a menu of display options.